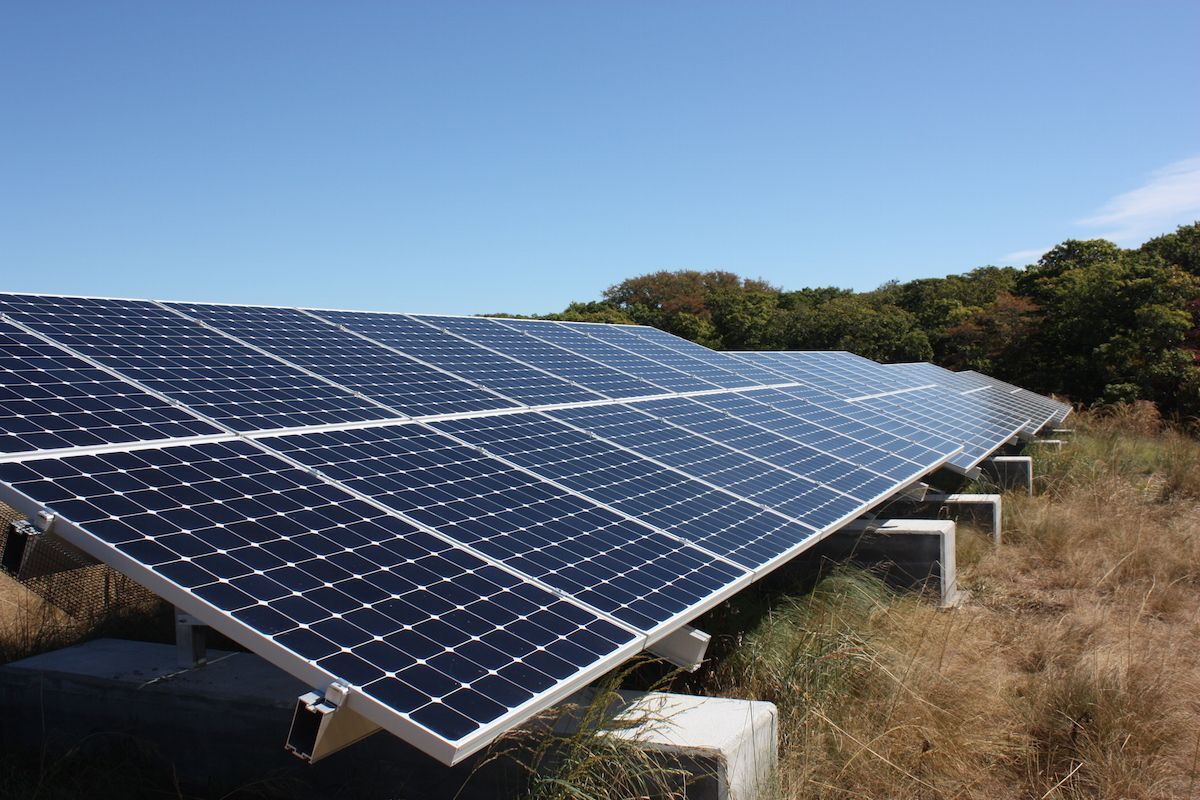 Energy Transformation
The actions in this focus area highlight the process by which our energy supply will become more reliant on renewable electric sources (solar, wind, waterpower) and less on fossil fuels. Actions also focus on building resilience of our energy supply.
Progress Toward Our Goals
Progress Toward Our Goals
Many actions are underway in this thematic area from various partners but here are some highlights.
Vineyard Power launched an energy transition program with a new Energy Transition Coordinator, funded by the Vision Fellowship. A new website has also been launched as a resource for homes and businesses to get information on energy efficiency programs and speak one-on-one to energy coaches on building electrification, EVs, and solar electricity. VP is also hosting office hours every Wed from 3-6pm at VP office 151 Beach Rd for anyone interested in learning about potential careers in offshore wind or receive updates on the project and planning further outreach regarding offshore wind.
A new MVC Energy Planner position has been filled through the Vision Fellowship to work on regional energy transformation efforts. The planner has established Eversource Working Group, coordinated the Ferries Now event about electric ferries, and has been meeting with town Energy Committees to discuss a variety of CAP related actions such as EV changes and microgrids.
Cape Light Compact has established a Home Energy Assessment baseline and, in partnership with Vineyard Power, is in the process of developing increased awareness and enrollment into programs from renewable energy that benefit low-income rate payers.
Energy and Climate Change
Opportunities to Reduce Emissions
A lot of everyday activities use energy. On the Island, almost half of our energy use is for transportation. The remainder of the energy we use is for heating and powering our homes and businesses.
Energy use in these sectors is almost equal to the share of greenhouse gas emissions (GHGs) they produce, meaning if we cut down on energy use and transition to clean energy sources, we will also be reducing our emissions.
Learn How We Can Shrink Emissions from Transportation
In addition to decreasing the amount of energy we use, we also need to make sure our energy is fossil fuel free. Many of our community members are already taking steps to transition their building systems to electric. There are 6,000-7,000 air source heat pump heating systems and 2,000-3,000 heat pump hot water systems on the Island already!
Get rebates for heating and cooling upgrades and rebates for heat pump hot water systems
Pairing electric systems with a clean grid is essential. As we develop a cleaner energy grid (we already get 30% of our energy from renewable sources), our homes and businesses will be powered with a decreasing amount of fossil fuels.
Did you know? Nearly 8% of electricity used in homes comes from on-Island solar generation! As more homes and businesses invest in solar, our energy grid will be more renewable - and more resilient.
Installing solar is currently not feasible for everyone, however. We need to make sure that all community members, including renters and low-income residents, have access to clean, affordable energy.
Massachusetts has a goal to deploy 5,600 MW of local offshore wind over the next decade. These turbines will produce enough clean energy to power 3 million homes - over 40% of the state's energy demand. Offshore wind development will benefit Martha's Vineyard by providing:
Over $15,000,000 in infrastructure investments, including a resilient port in Vineyard Haven's working waterfront
50 year-round jobs at an offshore wind operations center generating $75,000,000 in economic development over 15 years
$25,000,000 in funding to facilitate the transition to a more resilient and equitable 100% renewable community
Equity and the Energy Transformation
Ensuring Clean, Affordable Energy for Everyone
The up-front cost of transitioning to more efficient technologies and renewable energy sources can be a barrier to many low to medium income homes. Additionally, many Islanders rent homes or are housing-insecure and not able to make choices to transition. These barriers create inequities in the ability to receive the long-term cost-saving benefits of new technologies.
We will aim to ensure all people have access to these benefits through a variety of programs. Some of these actions are focused on improving communications and participation in Cape Light Compact programs for low to moderate income families. Other actions will take advantage of funds derived through Vineyard Wind's Community Benefits Agreement that provides money specifically to reduce electricity costs of low-income families.
Take Action to Transform Our Energy Systems!
---